"

When Missing Persons were charting, I don't think it would have been possible for the Ramones to share the stage with them, let alone warm up for them, but the Hormones, an "All Girl Tribute to the Ramones," did just that on Friday. I had a lot of fun listening to what was the closest that I will ever get to seeing the Ramones play live."
BIOGRAPHY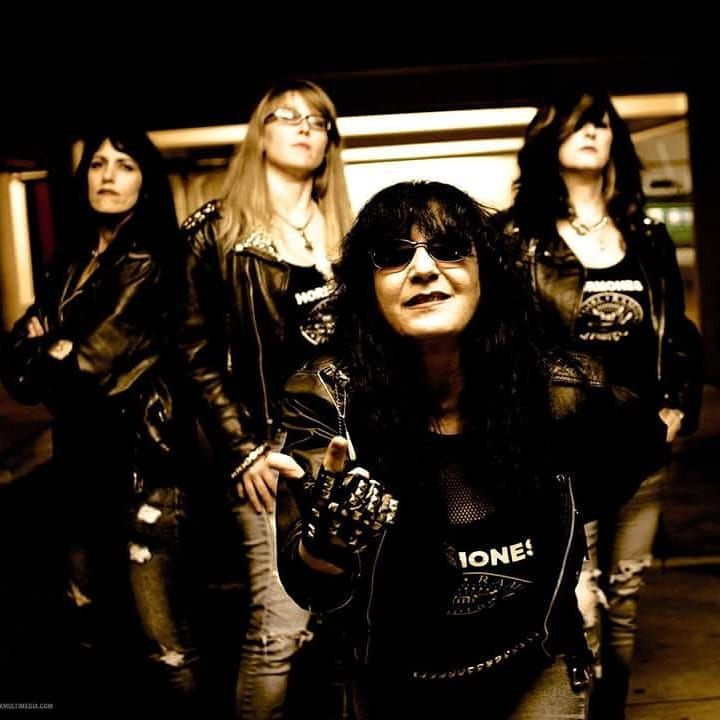 Hormones
all girl ramones tribute
The Hormones are an all girl tribute to legendary rock and roll hall of famers', the Ramones. Emulating the power, turbulence, rebellion and humor of Joey, Johnny, Dee Dee and Tommy, these hard hitting, ass kicking ladies burn through over twenty songs in under forty-five minutes! 
Charged with infectious energy, the Hormones deliver a true Ramones experience with curves! 
Cast of Characters: Ronda Najera (Joey) , Lorissa Bergamin (Johnny), Terilynn Bench (Dee Dee), Windy Wild (Tommy).
SET LIST
 SHEENA IS A PUNK ROCKER 
TEENAGE LOBOTOMY 
CRETIN HOP 
OUTSIDER 
JUDY IS A PUNK 
PET SEMATARY 
WE WANT THE AIRWAVES
I DON'T WANNA WALK AROUND WITH YOU 
HAPPY BIRTHDAY 
BEAT ON THE BRAT 
SPIDERMAN 
DO YA WANNA DANCE 
DO YOU REMEMBER ROCK AND ROLL RADIO 
SOMEBODY PUT SOMETHING IN MY DRINK 
POISON HEART 
HAVANA AFFAIR 
COMMANDO 
I WANNA BE YOUR BOYFRIEND 
CHINESE ROCK 
WHAT A WONDERFUL WORLD 
MERRY CHRISTMAS (I DON'T WANT TO FIGHT TONIGHT) 
WE'RE A HAPPY FAMILY 
ROCKAWAY BEACH 
CALIFORNIA SUN 
I WANNA BE SEDATED 
PINHEAD 
MAMA'S BOY 
I JUST WANT TO HAVE SOMETHING TO DO 
SHE'S THE ONE 
THE KKK TOOK MY BABY AWAY 
PSYCHOTHERAPY 
SHOCK TREATMENT 
GLAD TO SEE YOU GO 
SUZY IS A HEADBANGER 
LET'S DANCE 
ROCK AND ROLL HIGH SCHOOL 
BLITZKRIEG BOP 
R.A.M.O.N.E.S.